software for email
Mailing List Studio sends faster than any other software for email.

The Turbo engine is the new engine for software for email designed and developed entirely by our software house and allows you to send 50 emails at a time. Mailing List Studio is the only software for email in the world that can use this feature.

Reduces the traffic to your SMTP server 50 times, thus avoiding overloading the network. This also means fewer problems with your manager intertnet.

With Mailing List Studio, software for email, you can manage subscriptions and cancellations automatically every time without having to add or delete recipients manually.

And 'Just set up a mailbox that Mailing List Studio software for email check to check for new messages. In the case of messages with subject REMOVE or SUBSCRIBE Mailing List Studio will handle registrations / cancellations.

This will allow you to always have a mailing list updated automatically.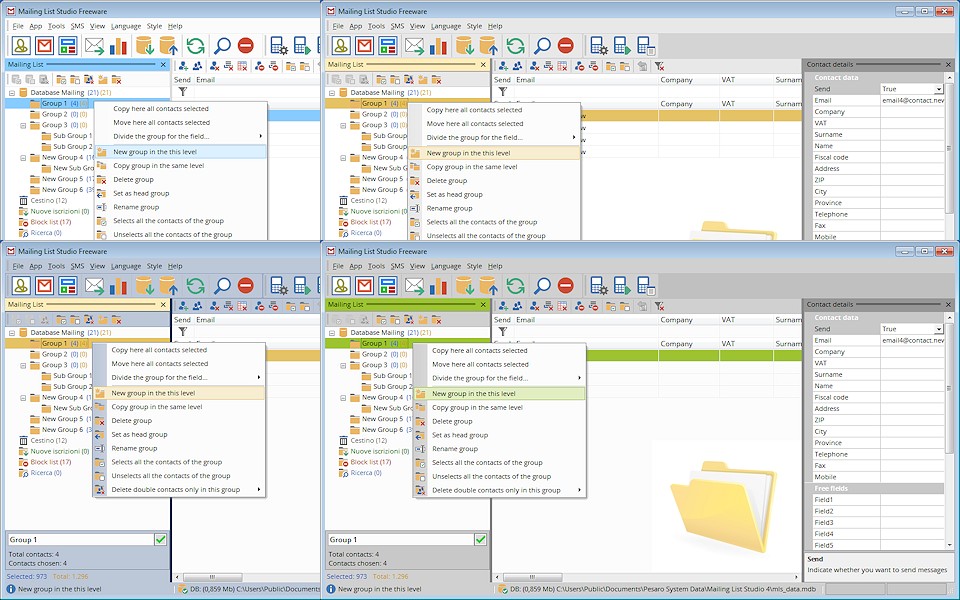 Mailing List Studio software for email allows management through monitoring of developments during the sending of the mailing list shows the total number of messages, sent, unsent, outstanding.

Mailing List Studio also allows the analysis of the 'effectiveness of the newsletter via Message Tracking opened and read by recipients.

This feature allows you to have the real statistics on the outcome of the newsletter

With Mailing List Studio software for email recipients can import and export from SQL Server or directly from Microsoft Office applications like MS Outlook, MS Access and MS Excel. In addition to MS Office, Mailing List Studio can also import data from contacts from Windows Mail and Outlook Express and even simple text file as a. Txt or. Csv.

Mailing List Studio software for email, is designed to send an unlimited number of mail.

Each message is sent separately to the privacy of the recipients is protected. By managing to send to multiple recipients must also protect themselves from accidentally reveal the e-mail addresses of other recipients, in that our software will help by sending emails to each individual recipient.